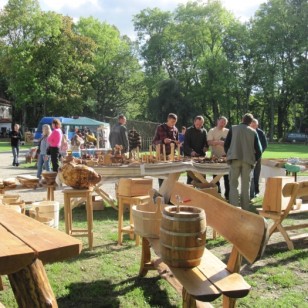 The project "Cross-border network of craft as promoter of attractiveness of Latvia – Lithuania borderlands"
15 partners – municipalities from Latvia and Lithuania have implemented common project aiming at development of attractiveness and competitiveness of borderlands. The project focused on fostering the development of the traditional arts and crafts industry sector and strengthening the capacity of local craftsmen to develop and offer attractive craft products and events to the inhabitants and guests of partner regions. Within the framework of the project ten buildings were reconstructed, equipment and museum exhibits were purchased, digital woodcraft museum established, skills of craftsmen improved, international craftsmanship events organized. The project was implemented from 2009 until 2011.
On behalf of the project applicant we elaborated project proposal that included communication with all project partners, carrying out the projects' cost-benefit analysis, development of project description and budget, management and coordination plan and risk analysis.